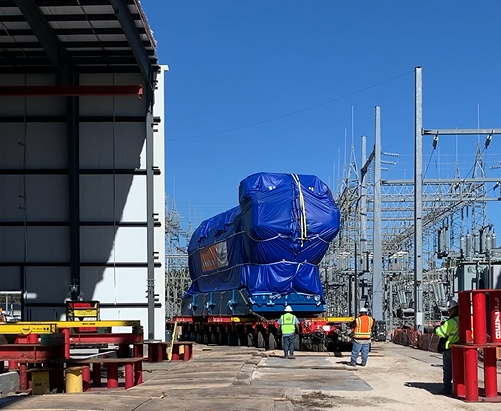 In November 2018, Casey Industrial wrapped up construction on the installation of four Wärtsilä 50SG reciprocating engines at the Arvah B. Hopkins Generating
Station in Tallahassee, Florida. Following the success of the original project, the City of Tallahassee awarded Casey Industrial an expansion project involving the complete installation of a fifth Wärtsilä 50SG engine.
The Casey team has been back on site and diligently working toward completion since June 2019. On November 27th, the team received a major delivery – the engine arrived on site. The site team and the City are very pleased with the progress being made and look forward to seeing the engine move into its final position in the engine hall alongside the other four engines.
Casey recognizes the need to move toward "grid balancing" energy options and is proud to have installed 90 Reciprocating Engines across the United States, ranging in size from 500 KW to 18 MW and providing our customers with back-up power and generation projects in the 1 MW to 200+ MW range. In a story documented by WCTV, this installation is one of several projects the City of Tallahassee is pursuing in order to provide clean, reliable energy to their residents.