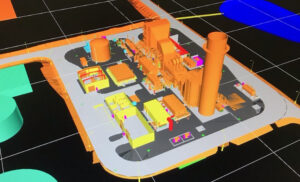 Casey Industrial, Inc., part of MasTec's Clean Energy and Infrastructure Group, a wholly owned subsidiary of MasTec, Inc. (NYSE: MTZ), is proud to announce the award of the El Paso Electric [EPE] Newman 6 – GT5 Construction and Commissioning Services project in El Paso, Texas by the El Paso Electric Company.  The new plant will support El Paso's commitment to provide clean, affordable, and reliable electricity by replacing carbon-intensive assets with a combination of renewables, storage and clean fuel power generation to its customers.
Newman 6 will enable EPE to triple its renewable energy portfolio and reduce carbon emissions. complementing renewable energy sources by starting up and shutting down rapidly to respond to customer energy usage and renewable energy variability. In addition, the project is hydrogen ready for future deep decarbonization, to meet local and state carbon free emissions goals.
The Newman 6 Facility, located adjacent to the existing Newman power plant, will consist of a new 230 MW Mitsubishi M501GAC combustion turbine generator, hot SCR for emissions control, and all balance of plant equipment and systems.  Casey Industrial, as the General Contractor, will perform site management and all construction, commodity procurements, startup and commissioning for the new, state‐of‐the‐art, simple cycle facility, to achieve Substantial Completion by June of 2023.
MasTec has always been guided by a culture of Safety, People and Environmental Stewardship.  Sustainability is inherent in our name, Clean Energy and Infrastructure.  Casey Industrial is proud to be a part of MasTec CE&I, and excited to execute this important project with the El Paso Newman 6 team.
********************
About El Paso Electric Company
Founded in 1901, El Paso Electric is a regional electric utility providing generation, transmission and distribution service to approximately 444,300 retail and wholesale customers in a 10,000 square mile area of the Rio Grande valley in west Texas and southern New Mexico. Its service territory extends from Hatch, New Mexico to Van Horn, Texas. El Paso Electric's vision and mission:  Together we are powering the next hundred years of Growth, Innovation and Economic Vibrancy through Transformation of the Energy Landscape. For more information, visit El Paso Electric's website.
About Mitsubishi Power Americas, Inc.
Mitsubishi Power, a subsidiary of Mitsubishi Heavy Industries, is a world leader in power generation and energy storage solutions. It provides power generation solutions that include cleaner natural gas and green hydrogen; renewable energy; long- and short-term energy storage; environmental controls; services; and digital solutions for plant operation and maintenance. For more information, visit the Mitsubishi Power Americas website and follow on LinkedIn.